Artaban Productions is pleased to announce its documentary Eddy's Kingdom, about Canada's first terrorist, has been selected by Hot Docs Festival and will be streaming on Hot Docs Festival Online from May 28 to June 6, 2020.
Eddy's Kingdom has 4 Leo Award Nominations for Best Feature Length Documentary, Best Direction for Greg Crompton, Best Screenwriting and Best Picture Editing
Artaban Productions is pleased to announce that the documentary Eddy's Kingdom has been selected to screen at Toronto's Hot Docs Festival. Produced by Greg Crompton and Tony Cerciello, this is director Greg Crompton's feature documentary directorial debut. Eddy's Kingdom is an eighty-five minute archival documentary recounting the previously untold story of Canada's most monomaniacal entrepreneur and Canada's first terrorist Eddy Haymour and the extreme, stranger-than-fiction methods he pursued to construct an island theme park in British Columbia's Okanagan Valley. It focuses on a Lebanese-Canadian immigrant who straddles two cultures, and who, in an effort to realize his dream, staged a week-long hostage taking in the Canadian Embassy in Beirut, Lebanon.
Hot Docs Festival Online will run from May 28 to June 6, 2020. Viewers can stream doc premieres, enjoy pre-recorded filmmaker Q&As & more all from the comfort of home and available at www.hotdocs.ca.
Starting May 21, ticket package holders will be able to book their films and Hot Docs Members will be able to purchase single tickets at www.hotdocs.ca. Single tickets will go on sale to the general public starting May 26. Tickets are $9 per film ($8 for Hot Docs Members). All films will be available to stream starting May 28. As at the live Hot Docs Festival, only a limited number of tickets are available for each film. Films will be geo-blocked to the province of Ontario
Eddy Haymour is a barber, an eccentric entrepreneur, a psychiatric patient, a kidnapper, and a hostage taker. A controversial character, Eddy has been called both madman and visionary. The historical narrative follows Eddy's arrival in Edmonton from Lebanon. The story zeros in on a series of events that took place in British Columbia in the '70s and '80s. It starts with a government conspiracy that blocked the construction of his island theme park. The subsequent fallout is chronicled: the kidnapping of his children, the attempts to send letter bombs to his enemies, his incarceration in Riverview Psychiatric Hospital, his plan to bomb the provincial legislature, his hostage taking in Lebanon, and eventual vindication by the Supreme Court of British Columbia. Today, his fruitless quest continues as he attempts to confront the current BC government to get his island back.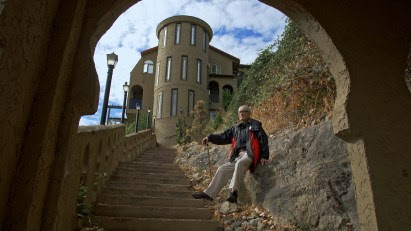 Although Eddy finally wins in court, it is a pyrrhic victory. He doesn't get the island back. His obsession with getting it back led him to take hostages, plan attacks on the government, and lose his sanity. His youngest daughter from his second marriage, Fadwa, helps him navigate a government bureaucracy that is beyond his ability. With all of his other family members estranged, Fadwa is the final connection for Eddy to a life once full of success and love.
Today, his fruitless quest continues as he attempts to confront the current BC government to get his island back. His narcissism will not allow him to see the obvious fact that there is no chance of ever getting the island back. This documentary draws a portrait of an obsessed man lost in delusions of justice.
Director, Greg Crompton grew up in Kelowna, British Columbia and boated by Rattlesnake Island numerous times. Eddy's Kingdomis Greg's first feature documentary as a solo director. He was always amazed that a man had picked up an AK-47 and held a bunch of hostages over this insignificant, albeit beautiful, speck of land in the Okanagan Lake. The story itself was murky, no one seemed to have it straight. Was Eddy a victim or a terrorist? Was his dream really an amusement park in the middle of a lake? Were the letter bombs real?
Greg's directorial vision was simple: tell all sides of the story with Eddy as the primary storyteller. It was his story but other voices would be needed in order to create an accurate narrative. Taking Eddy's point of view wasn't meant to excuse his actions, but to give voice to someone who had been maligned for decades.
"My goal was to put the audience in an awkward position: a closeness to both a perpetrator of violence and a victim of a conspiracy. It was key that the audience get all the necessary information to pass judgement. I wanted the audience to feel conflicted as to how they ultimately viewed Eddy," says Greg. "I mixed archival media along with 'created' archival media to heighten this experience of subjective truth versus objective truth, of factual truth versus emotional truth. Ultimately, there are no villains in this story; there are no heroes. This is a bizarre tale centred on a complex character, and the audience is right in the middle of it. There is no resolution for Eddy. I wanted to activate the audience. I wanted them to have to pass judgement on a man and his actions."
Greg has directed, produced, and written award-winning short films, documentaries, and TV shows around the globe. He got his start shooting and directing mini-documentaries in Europe and Africa. He then went on to produce a series of TV shows called VJIAM.tv, Go For Gold TV, and Project Green Generation TV. His forays into directing have won awards for the feature documentary Guns to Mics and the short documentary Listening to a Sense of Place. His most recent project was directing the documentary show BC Was Awesome season 3, released in fall 2019.
Greg Crompton is available for interviews. Screeners are available upon request.
Please contact Lesley Diana | lesley@thepromotionpeople.ca | 604-726-5575
Eddy's Kingdom trailer: https://vimeo.com/299311154
The full list of participating films can be found here: Hot Docs Festival Online.