Source JustLuxe
There is something magical about Kauai, Hawaii. The air, the scenery, the mountains, the sea, the people and the stories. Your first step off the plane is reminiscent of stepping into a new world. One that is underdeveloped, with no skyscrapers blocking the view of the natural beauty of the island. Compared to the other islands, Kauai is smaller, less populated, more rural and more laid back.
With so many destinations to choose from around the world, why do so many keep going back to Kauai, Hawaii? With Westjet offering direct flights from Vancouver, BC to Lihue between October to April, it's an easy trip to this special piece of paradise. It has been said that you might not remember what someone says but you will always remember how they make you feel. That statement is true for getaways as well. Destinations that reliably create beautiful memories are hard to come by and worth holding onto.
If you want to tour the island (which you should!), the first thing on your to-do list is to rent a car. After reading the five-star reviews for SIXT car rental and my association with Brian Jessel BMW magazine, we were delighted to drive a brand new BMW X5 to do our sightseeing.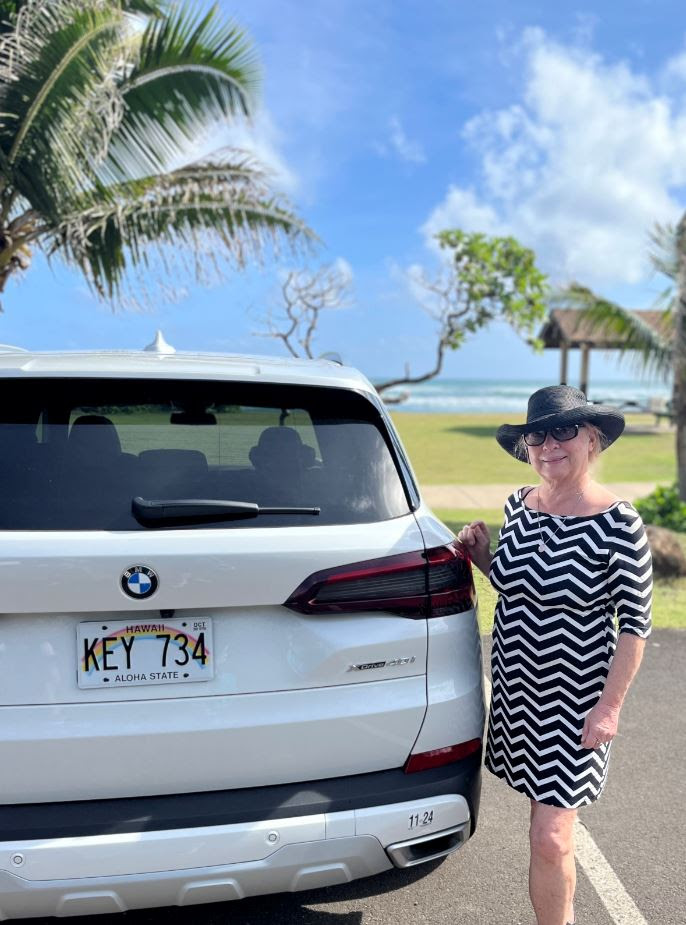 My son takes great pride in the cars he drives. The smile on his face driving to pick me up with our luggage was ear to ear as he reveled in the extraordinary performance and dynamics of the BMW X5. Immediately, we thought what a great way to test drive a car when you are on vacation. Donavan was more than impressed and continually said, "I just love this car."
Kauai is known as the Garden Island that has endless charms—from spectacular beaches, lush rainforests to world-class golf courses. You will want to take time to drive to some of the wonderful attractions and activities located all around the island.
What fascinated me most was how much land philanthropists have given back to the island to prevent Kauai from becoming over-commercialized like many other tropical islands. A strict cap on building heights (hotels can be no more than 40 feet high), prevents the development of the mega-resorts and towering skyscrapers found on the other islands. The local rule is that nothing can be built taller than a coconut tree.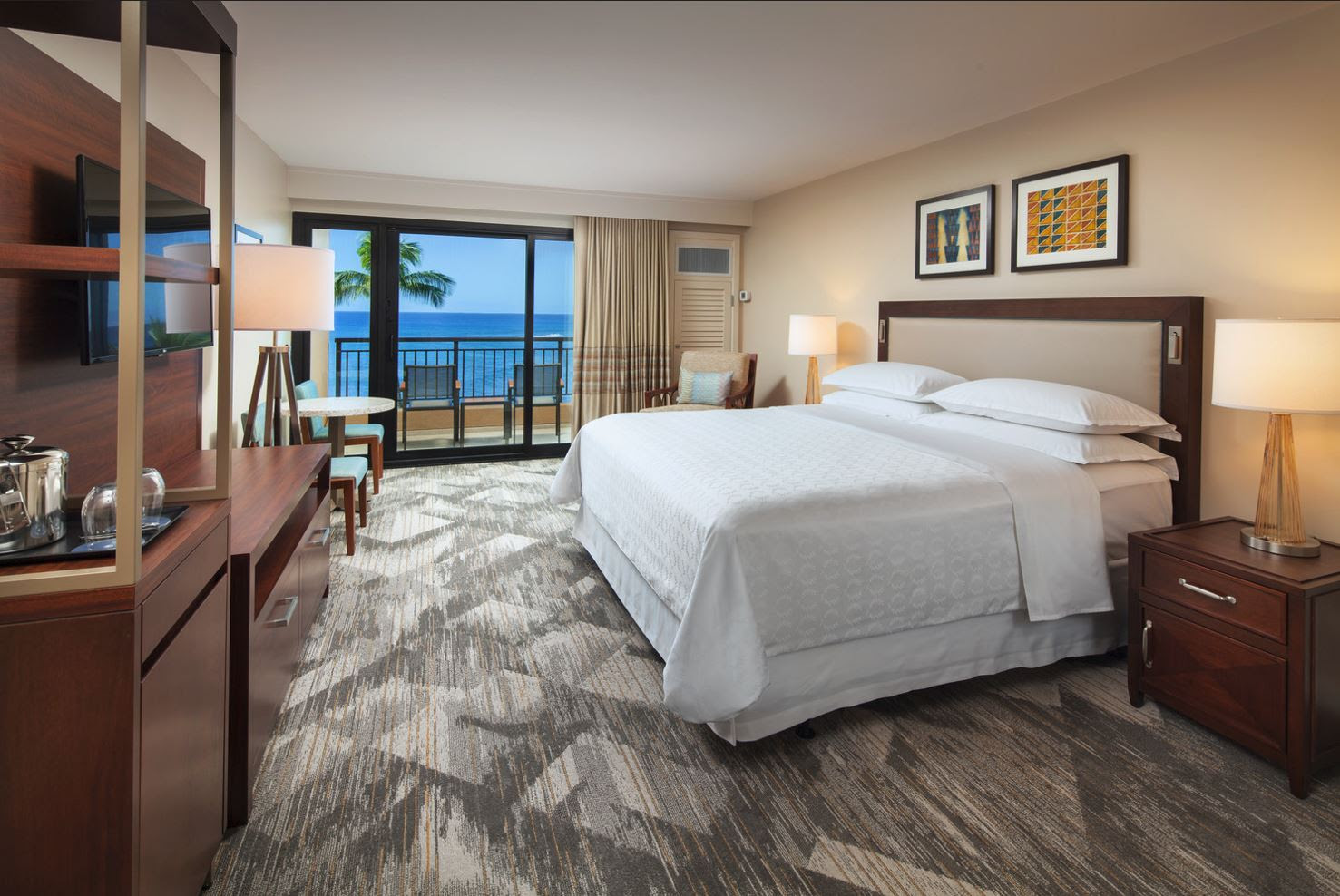 We headed to the tunnel of trees, the gateway to Poipu, to stay at the Sheraton Kauai Resort – a welcoming hotel oasis nestled on 20 acres on the shores of Hawaii's world-famous Poipu Beach. With access to pristine white-sand beaches and crystal-clear waters, this was the perfect place to anchor our adventures.
Their renovated guest rooms and suites face the sparkling oceanfront or lush garden views. A home away from home. One of the few hotels grandfathered in, the hotel is situated right on the beach, with two fresh-water pools and a hot tub. The resort offers everything from being able to pick up your morning coffee to catch the sunrise to dining at Rum Fire Restaurant to watch spectacular sunset views. Lava's on Poipu Beach has views from every table or you can enjoy drinks and cuisine poolside. Everything we could want during a relaxing vacation was at our fingertips. When you have the opportunity to meet and chat with most of the same staff over the years that says a lot about the resort.
Executive Chef Gabe Balenzuela oversees all food and beverage operations for Sheraton Kauai Resort and the result is the level of hospitality is nothing short of outstanding. Dining at Rum Fire Poipu Beach at sunset is an awe-inspiring experience offering a modern Kauai dining experience with spectacular 180-degree ocean views. Rum Fire's menu serves locally sourced cuisine with a global influence, featuring selections that will please even the most discriminating palates.
The resort is also an involved member of its community, with several charitable programs set up at the resort to give back to the island. When dining at Table 53 in Rum Fire or when you book Bungalow No. 5 poolside for full-day access to the amenities, the proceeds go directly to Charity Walk Kauai to benefit more than 60 non-profit organizations providing critical services on the island.
Whatever brings you to Hawaii, its golden-sand beaches and misty sea breezes ensure you will never want to leave. Daily resort activities include Lei making, arts and crafts, ukulele lessons, snorkeling, surfing, swimming, Luau and walking the seawall all available on site. With so many activities you can be as active as you like or just relax with a good book poolside or beachside. Showcasing an array of indoor and outdoor event venues, the hotel is also a brilliant location for a corporate retreat, wedding, or family reunion in Kauai.
Sheraton Kauai Resort is one of the few resorts to offer daily yoga classes to their guests included in the resort fee. I took part in yoga classes beachside rain or shine every morning at 8:00 am, joining all ages and levels. Every instructor brings something different to their class. Yoga is a great way to start the day and meet people from around the world. By practicing yoga you can slow down from your busy world and connect to yourself.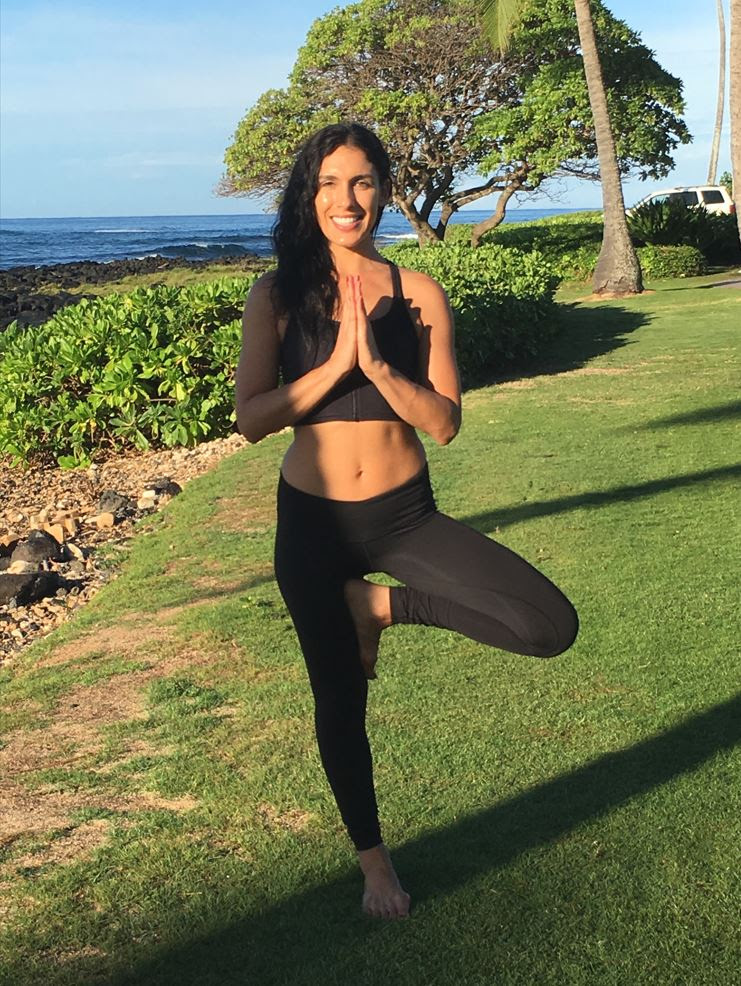 The elements on the island are conducive to yoga. The classes guide us to be grateful not only for our practice but our bodies and the beautiful location. You are encouraged to honor your body where it is today by not competing with anyone else, just gingo at your own pace.
I spoke to a number of guests staying at the Sheraton Kauai Resort to ask them why they keep returning to this precious property. Doug and Mandy from Yakima, Washington have been coming for six years with friends and co-workers. They love the ocean, the water is the perfect temperature, and they appreciate the great customer service at the resort. They love Kauai as it is quieter and has hundreds of acres of green space, which are wonderful to see from helicopter rides. Fishing and snorkeling is beautiful and the island and resort provide entertainment for all generations. You can do absolutely nothing but enjoy the view or do a lot. Your choice. Both are fabulous.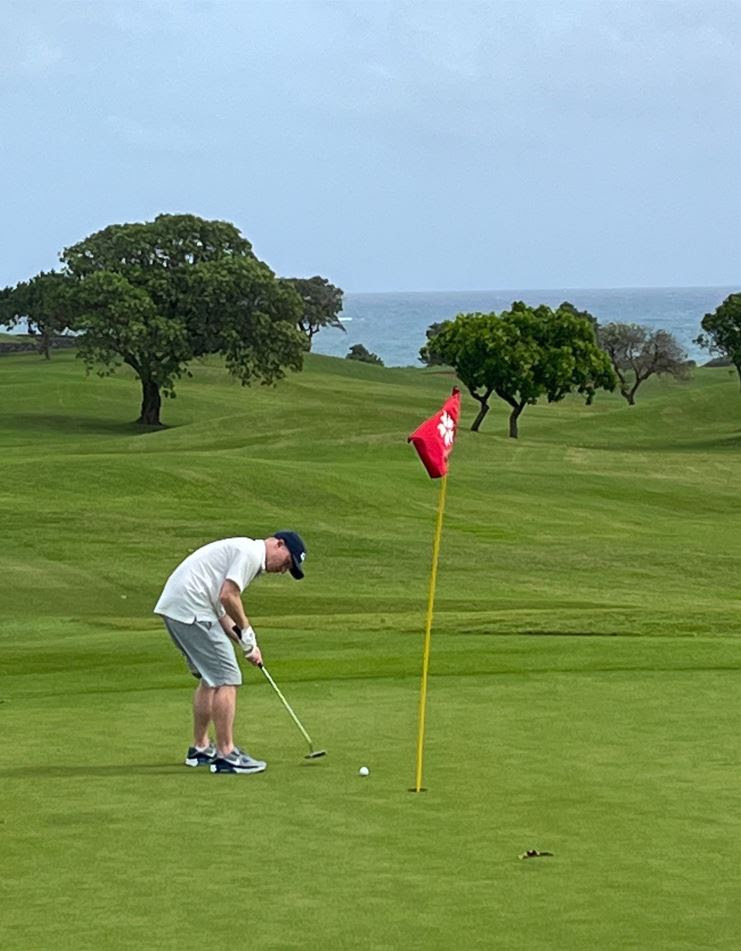 One of our most special days was spent on the award-winning Poipu Bay Golf Course. This outstanding course is backed by lush emerald mountains and sculpted from a rolling plateau eight stories above the Pacific Ocean. Nestled among the gentle contours of Poipu Bay you'll discover the remains of Hawaiian heiau (places of worship) and ancient stone walls. Mother Nature presents you with one distraction after another. Even the most focused golfer will be challenged by the breathtaking views. Poipu Bay features the latest technology in rental golf clubs. Play on the same course challenged by even the best of the best professional golfers in the PGA Grand Slam of Golf from 1994 to 2006. A unique and unforgettable golf experience awaits you—one that will bring every aspect of your game into fresh and thrilling focus. For more information, check out the Course Overview or take the Hole-by-Hole Tour. www.poipubaygolf.com
If you aren't an experienced golfer the Kukuiolono Park and Golf Course may be the course for you as they only charge $7 – $9 dollars a day for unlimited play. Walter McByde donated the course to the state of Hawaii so the locals have a golf course that they can afford to play on. Expect wind sweeping over the terrain, lots of trees, a few fairway hazards, and maybe a wild chicken pecking at the greens. https://kukuiolonogolf.com
On previous trips, we have taken Sea Tours on a Deluxe Catamaran Snorkel Trip to experience the majestic Na Pali coast, on the spacious 60-foot, custom-designed catamaran. As we headed up north to NaPali along the southwest coast of Kauai we got to see playful spinner dolphins skimming and leaping out of the waters, sea turtles, sea birds, and Humpback Whale watching in season (December – April) and more.
Our experienced captain was entertaining with the history and legends of Kauai, marine life ecology and tales of all the land that has been given to the island. He also points out where feature films and TV series were shot, the last battle place and where Jacqueline Kennedy went to recuperate after JFK's assassination. We also stopped to swim and snorkel enjoying the underwater sights of a variety of fish and turtles swimming by.
Another adventure was Kauai Backcountry Adventures' Mountain Tubing experience. We learned about the island's history, culture and natural environment, while we visited spectacular lands with breathtaking vistas and fantastic scenery as we jumped into the gently flowing waters through open canals and tunnels hand-dug a century ago by plantation workers. The waters originate near the top of Mount Waialeale, one of the wettest spots in the world.
One of our most memorable days was an afternoon trip on Blue Hawaiian Helicopters, a trip of a lifetime. As stated on their website: Six million years of powerful natural forces have sculpted Kauai into what it is today, a natural masterpiece. The incomparable Na Pali Coast, Waimea Valley (the "Grand Canyon of the Pacific") and stunning Mount Waialeale (the second wettest place on earth), are among Kauai's incredible wonders that are so remote, they are only accessible by helicopter. www.bluehawaiian.com
Photo credit Lesley Diana – David Sancious
Many celebrities have homes on Kauai including Carlos Santana, Bette Midler, Ben Stiller and Pierce Bronson to name a few. World-renowned musician David Sancious, an original member of the E Street Band (named after his family home) who has toured with Bruce Springsteen, Sting and Peter Gabriel, also calls Kauai home. His radio show " THE PLEASURE OF SOUND" airs on KKCR Kauai Community Radio 90.9 fm Hanalei / 91.9 fm Kauai / 92.7 Moloa'a / 88.9 FM Honolulu / KKCR.org David plays music from around the world and different genres such as Classical, Jazz, Rock, Blues, Folk and more.
The show airs from 6 pm to 8 pm every other Tuesday. You can see his schedule at KKCR.org. It's a great show to listen to as you drive around the island. David is also back in the studio with Bruce Springsteen so watch for new music.
You will also find special shops on Kauai that you can't find anywhere else. My dear friend Kiran Sancious (David's wife) is from Vancouver and has been in fashion since her teens, modeling, designing and creating new and chic upcycled clothing. You can find her at Tropical Tantrum in Historic Hanalei Town and Old Kapaa Town. Tropical Tantrum designs and creates Hawaiian-style clothing that is colorful, fun and exciting, offering men's and women's fashions for all occasions. Their quality, hand-painted batik fabrics and fun, beautiful, comfortable styles make them a must-shop. Topical Tantrum manufactures all of its own clothing so you can custom order to your specifications. TropicalTantrum.com
The list is endless for things to do, see, enjoy and explore in Kauai. But I'm off to book my next vacation there so I will leave you this: If breathtaking scenery, extraordinary hospitality and limitless fun are on your list, you might want to consider Kauai as your next vacation destination.
Lesley Diana is an entertainment publicist based in Vancouver, BC. She loves to travel and write about her experiences. www.thepromotionpeople.ca